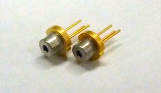 QD Laser have introduced two new high power NIR singlemode laser diodes.
QDL's QLF083x series are 830±15nm peak laser diodes rated at 210mW output power whilst the QLF093x-40B8 series are 940±20nm peak with an output power of 285mW.
Both series of diodes use industry-standard TO-56 packages with a flat window and internal Monitor Photodiode and are available in Common-Anode and Common-Cathode configurations.
The QLF083x and QLF093x are based on QD Laser's high reliability Quantum Well structures and offer high efficiency operation with typical drive currents of 225mA and 370mA respectively.
Product Availability
QDL's QLF083x and QLF093x-40B8 devices are currently "Under Development" - samples are available for testing purposes although specification is subject to change.
| | |
| --- | --- |
| | QLF083x-Series data sheet |
| | QLF093x-40B8-Series data sheet |
About QD Laser
QD Laser, Inc., launched in 2006 as a pioneer of the quantum dot laser technology, is now a leading provider of novel semiconductor laser solutions for Telecom/Datacom, optical interconnect, consumer electronics, industrial use and medical equipment.
QD Laser, Inc., has succeeded in the world first mass production of temperature-insensitive quantum dot lasers with the accumulated shipment of more than 2.5 million units. The company also invented a series of such original products as short-pulse DFB lasers for micromachining, the world's first current injection diode lasers of green, yellow green and orange in the 'Green Gap', quantum-dot laser arrays for silicon optical circuits, broadband gain chips for OCT (optical coherence tomography) and retinal imaging laser eyewear.
Importance of laser technology is increasingly growing to connect people and things with cyberspace at anytime and anyplace in this "Hyper Connected World)". In the area of high-capacity information processing, the quantum dot lasers with low noise and temperature robustness are to work as standard light sources of optical interconnect between LSI chips. As wearable devices, retinal imaging laser eyewear is expected to spread worldwide from low vision aids, workplace support to smart glasses with superior characteristics of focus free and universal design.
QD Laser, Inc. continues to grow as the state-of-the-art semiconductor laser company to create new market. We strongly hope to contribute to the development of customer business by providing our original and highly reliable products.
For more information please contact APT.